The All England Lawn Tennis and Croquet Club:
Wimbledon guided tour – part 1
Wimbledon guided tour – part 2
Wimbledon Centre Court roof
Court 3 : a new Show Court at Wimbledon
Waiting in the Queue to Wimbledon
Wimbledon Museum: The Queue exhibition
The Wimbledon Lawn Tennis Museum: Player Memorabilia
A trip down memory lane:
Wimbledon 's biggest upsets
Wimbledon memories: Mrs Blanche Bingley Hillyard
Wimbledon memories: Charlotte Cooper Sterry
Wimbledon memories: Dora Boothby
Portrait of Wimbledon champion Ann Jones
Wimbledon 1969: Laver's getting beat by an Indian
Rod Laver – John Newcombe Wimbledon 1969
Around the grounds at Wimbledon in 1971
Wimbledon 1975: Ashe vs Connors
Bjorn Borg – Ilie Nastase Wimbledon 1976
Portrait of 5-time Wimbledon champion Bjorn Borg
Wimbledon 1976: Chris Evert defeats Evonne Goolagong
Portrait of Virginia Wade, winner in 1977
1981: First Wimbledon title for McEnroe
1982: Jimmy Connors defeats John McEnroe
1984: John McEnroe defeats Jimmy Connors
1985: Boris Becker, the man on the moon
1986: Boris Becker defeats Ivan Lendl, wins second Wimbledon title
Portrait of 3-time Wimbledon champion Boris Becker
Wimbledon 1988: An era ends as Graf beats Navratilova
Wimbledon 1988: Edberg a deserving new champion
Portrait of 2-time Wimbledon champion Stefan Edberg
Wimbledon 1990: Becker vs Edberg
1990: Martina Navatilova's historic 9th Wimbledon champion
Wimbledon 1991: the first Middle Sunday
1992: first Grand Slam for Andre Agassi
Andre Agassi: thanks to Wimbledon I realized my dreams
1993: Pete Sampras defeats Jim Courier
1994: Pete Sampras defeats Goran Ivanisevic
1995: Tim Henman disqualified!
Wimbledon 1996: singing in the rain
1996: Richard Krajicek upsets Pete Sampras
Wimbledon 1996: a winning streak
1997: Pete Sampras defeats Cédric Pioline
2000 Wimbledon SF: Pat Rafter defeats Andre Agassi
2000 Wimbledon Final: Pete Sampras defeats Pat Rafter
2001 Wimbledon 4th round: Federer defeats Sampras
Wimbledon 2010: Rafael Nadal defeats Tomas Berdych
The Spirit of Wimbledon: a 4-part documentary by Rolex retracing Wimbledon history
Wimbledon 2012: Roger Federer defeats Andy Murray
Andy Murray's road to the Wimbledon 2013 final
Wimbledon 2013: Andy Murray, 77 years after Fred Perry
Wimbledon 2014 coverage
Wimbledon 2015 coverage
Fashion and gear:
Preview and Recaps:
Polls:
Loading ...
Loading ...
From Andy Murray's autobiography Seventy-Seven:
Roger Federer had beaten Novak Djokovic in the first semi-final. If I was to become the champion I would have to beat the greatest grass court player of all time.
I was nervous. I needed to win that match. I needed to win a Slam. And I really thought I had a chance. I felt so different to how I did before my first Grand Slam final, against Roger in the 2008 US Open. This time I felt like I was in a comfortable, settled place. I knew what I had to do. Mentally, I was prepared to win. I felt that I was ready.
I started well, breaking him in the first game and again at 4-4 to be able to serve for the first serve. I needed this set badly and I wasn't nervous serving for it. I felt as good as I could possibly have done. 6-4.
In the second set, I had a couple of break points that I vividly recall. On one, I hit a cross-court passing shot which he volleyed behind me. The next, I went full-blooded for a backhand winner down the line. I could have hit it down the middle of the court, and that might have happened in the past, but I decided to go for the winner. I just missed it. Roger took the set 7-5.
We went off for rain a couple of games into the third set and they closed the roof. Roger came out more aggressive from there. His timing is so good: when there is no wind to disturb him, he strikes the ball superbly. I don't think I played any worse, it was just that he played a little better. He was in his element.
At 3-3, I led 40-0 and he played a really good drop shot which I fell trying to reach. That stunned me a little. I think he could see that in my eyes. He got it back to deuce and piled on the pressure. I had to save five break points, but couldn't save a sixth. He was ahead from that moment on, taking the set 6-3 and easing over the line 6-4 in the fourth.
I have seen loads of players crying in the locker rooms after games, and heard stories about people breaking down. Normally you can get off the court pretty much straight away so that you can do that in private. Not in major finals, though, and I knew when I was going up to be interviewed on court straight after the defeat to Roger it was going to be really hard.
When I went to speak, the crowd turned the volume up and I sensed they knew what I was feeling. They made so much noise I had to wait for them. Sue Barker started to ask a question, but I knew people hadn't heard, so I ended up taking the microphone from her and just tried to say what I was feeling.
There was no time to think about what to say. I hadn't pictured myself losing or worried about what I might say if I did. My mind was in turmoil and the words just came spilling out. In sport, the interviews are usually so choreographed, but this was totally spontaneous.
I was just pleased that in those few moments, people saw my true personality. I appreciate the support I get, I really do. It helps so much. In the past maybe i didn't have everyone behind me, but that summer was the first time I really felt like the crowd were saying, 'He is one of us'. They really, really wanted me to win, they understood me and how much it meant.
I apologised to Roger for reacting the way I did, but he said not to worry, it showed how much I cared. He is a great champion. I came away proud of what I had achieved. Although I was upset that I hadn't won, there was no second-guessing myself thinking, 'What if I had done that differently?' I had gone for my shots, but for a set and a half at the end of the match, he just played brilliantly.
In the locker room, Ivan said he was proud of me too, and that I'd be better next time. I believed him, but it didn't stop me having to endure one of the saddest nights of my life.
Colin Fleming:
"I was part of the tie when we lost away to Lithuania in Group Two, and that proved to be John Lloyd's last match as captain.

Then, Leon came in and we played Turkey in Eastbourne. The pressure was on because if we had lost that, it would have been Group C, which is a totally different format, and not where we would want to be at all. The tie went really well, we won 5-0, then next up we played Tunisia in Bolton, and I remember Leon doing a presentation to the guys in the team hotel.

The main theme was that we were on a journey back to the World Group. At the time, it seemed quite ambitious and optimistic, but it has proven to be a reality. Andy coming back on board has been a key thing. It makes a huge difference having him there, but it is amazing the journey from those days. It would be unbelievable to end it by winning the Davis Cup.

Obviously, the team struggled for a while without Andy. There is no doubt about it, but it gave certain people a real chance to step up and play. Over the years, a few people have proven themselves in this arena. James Ward, obviously, while Dan Evans had some amazing Davis Cup results too."
A look at Team GB's journey from World II group to Davis Cup final:
Dan Evans had zero wins from his last 10 matches, but he was the hero of Britain's tie against Slovakia: he beat Lukas Lacko ranked 211 places above him in straight sets, and Martin Klizan, ranked 156 places higher, in the deciding rubber.
Britain faced Belgium in the second round. Colin Fleming and Ross Hutchins kept the British hopes of a comeback alive after Olivier Rochus and Steve Darcis wins. But David Goffin, making his Davis Cup singles debut defeated Josh Goodall in straight sets to propel Belgium to the World Group play-offs.
GROUP I EUROPE/AFRICA 1ST ROUND: GREAT BRITAIN – SLOVAKIA 3-2, Glasgow, hard
Dan Evans defeats Lukas Lacko 6-3 7-5 7-5
Martin Klizan defeats James Ward 6-2 4-6 6-4 7-6
Colin Fleming/Ross Hutchins defeat Michal Mertinak/Filip Polasek 6-3 7-6 0-6 6-3
Lukas Lacko defeats James Ward 7-6 6-1 6-3
Dan Evans defeats Martin Klizan 6-1 6-1 4-6 3-6 6-3
GROUP I EUROPE/AFRICA 2ND ROUND: GREAT BRITAIN – BELGIUM 1-3, Glasgow, hard
Steve Darcis defeats Josh Goodall 6-7 6-3 6-4 6-4
Olivier Rochus defeats Dan Evans 3-6 6-5 7-6 6-4
Colin Fleming/Ross Hutchins defeat Ruben Bemelmans/David Goffin 4-6 7-5 6-3 6-4
David Goffin defeats Josh Goodall 6-4 6-4 6-4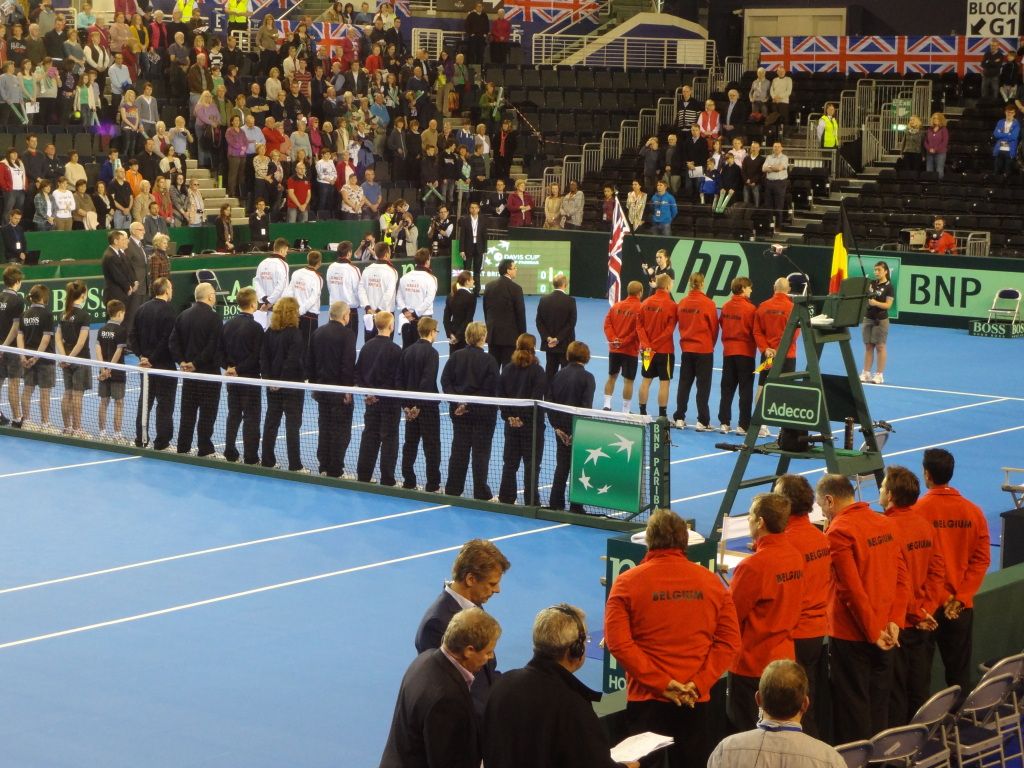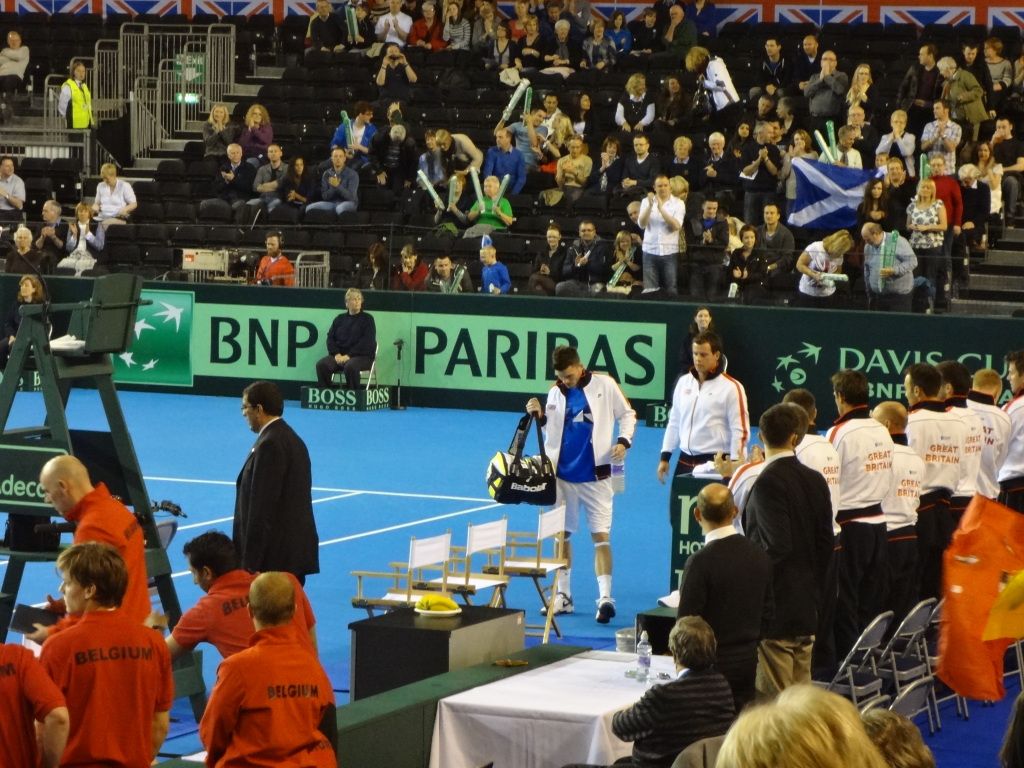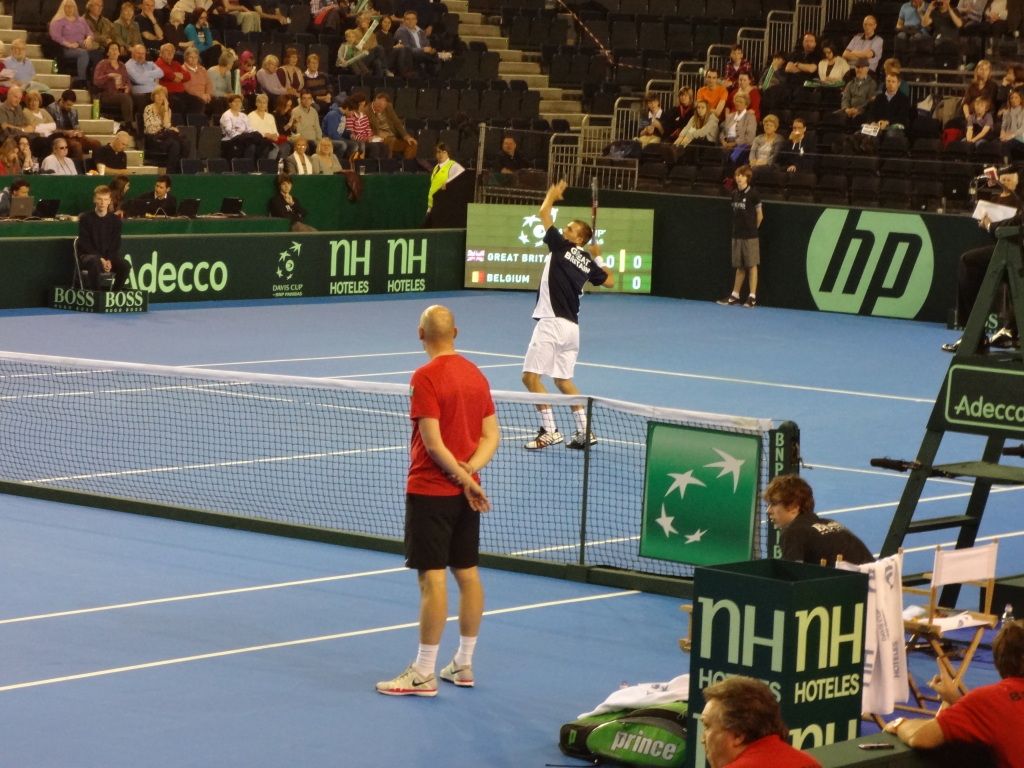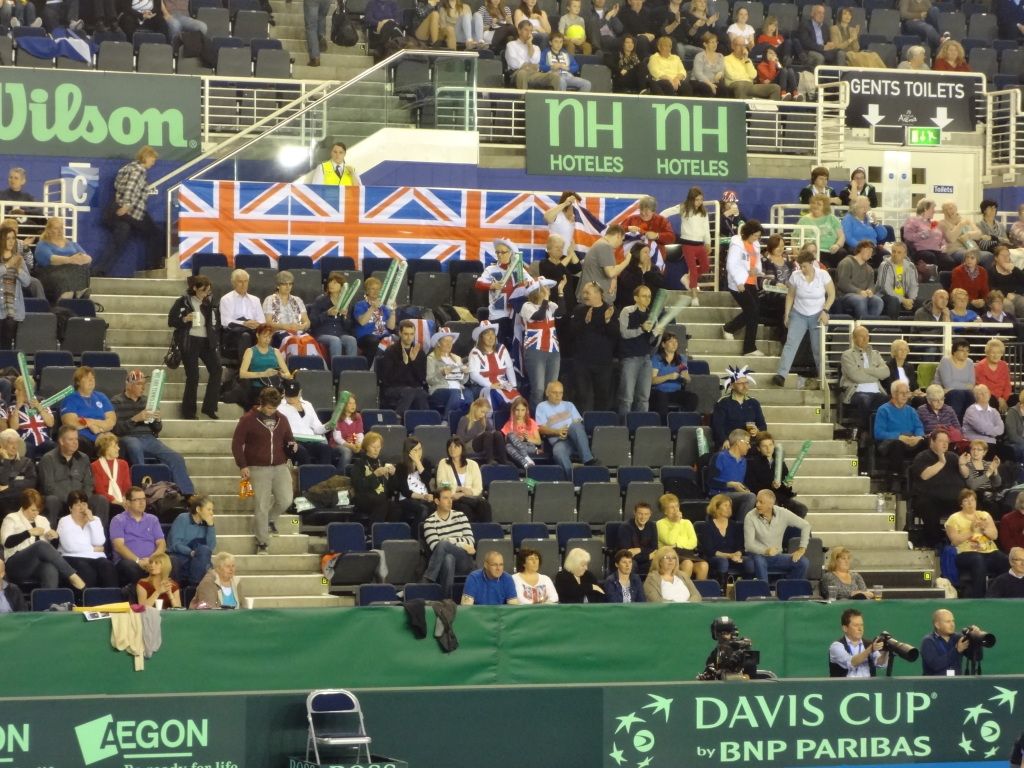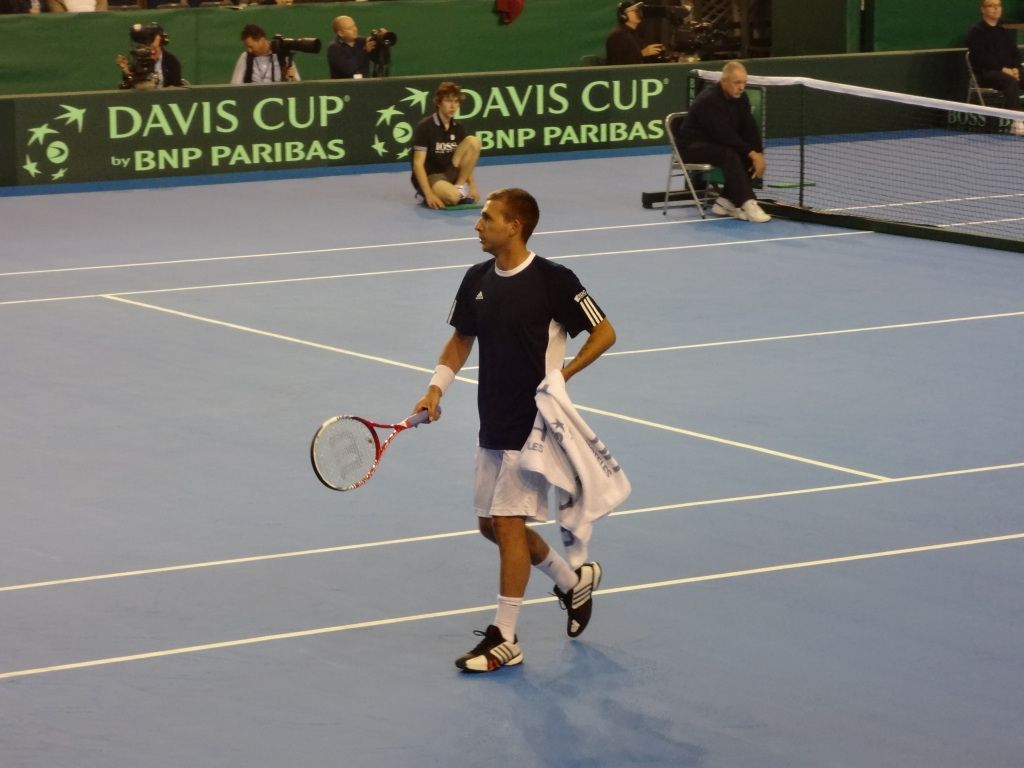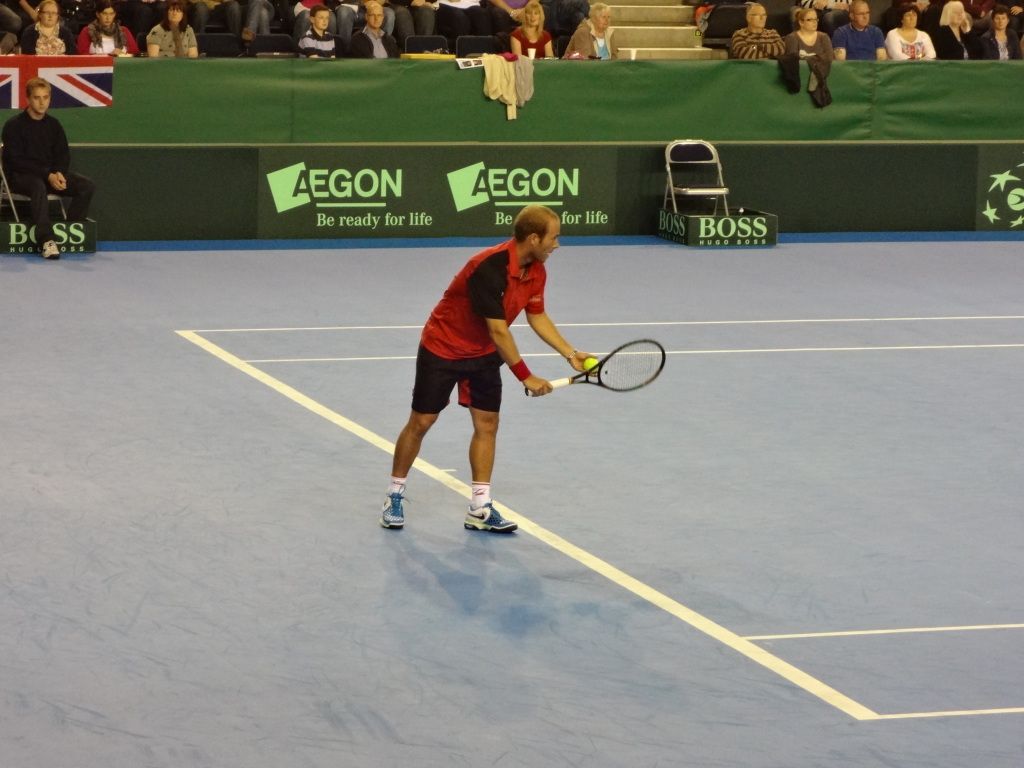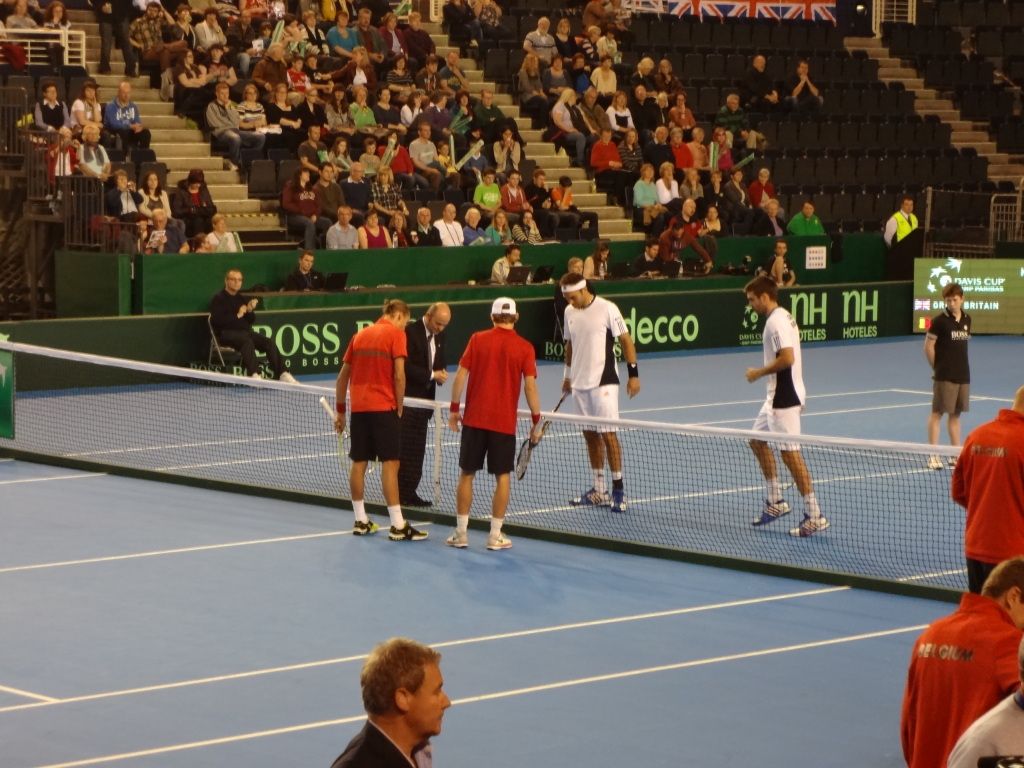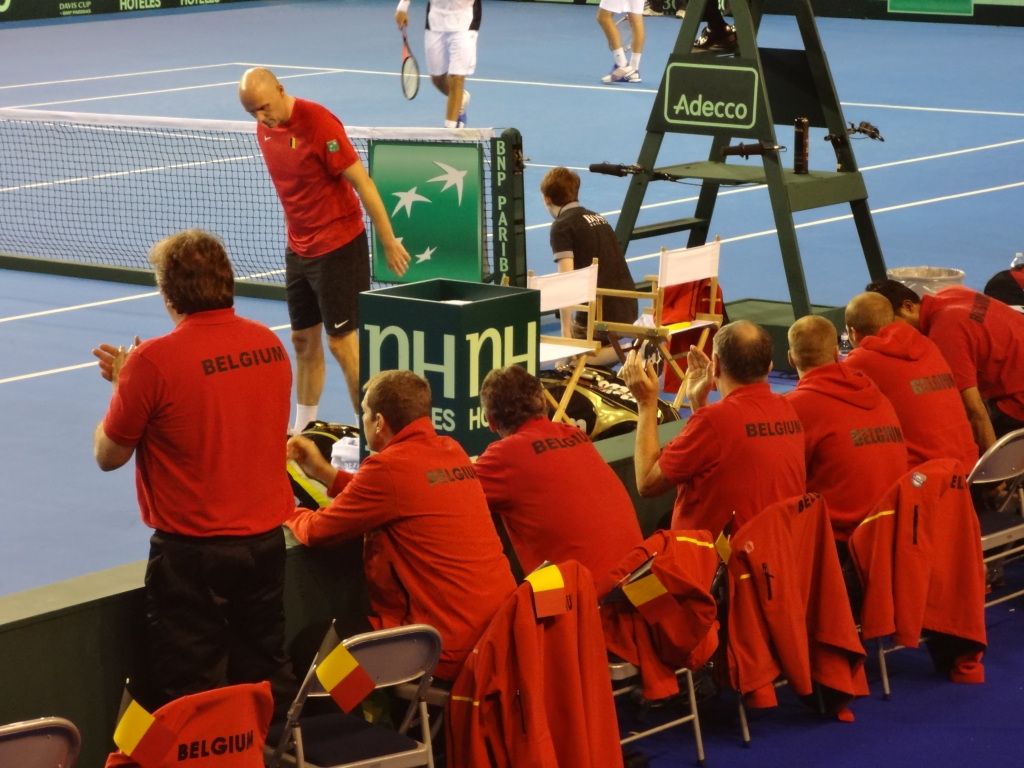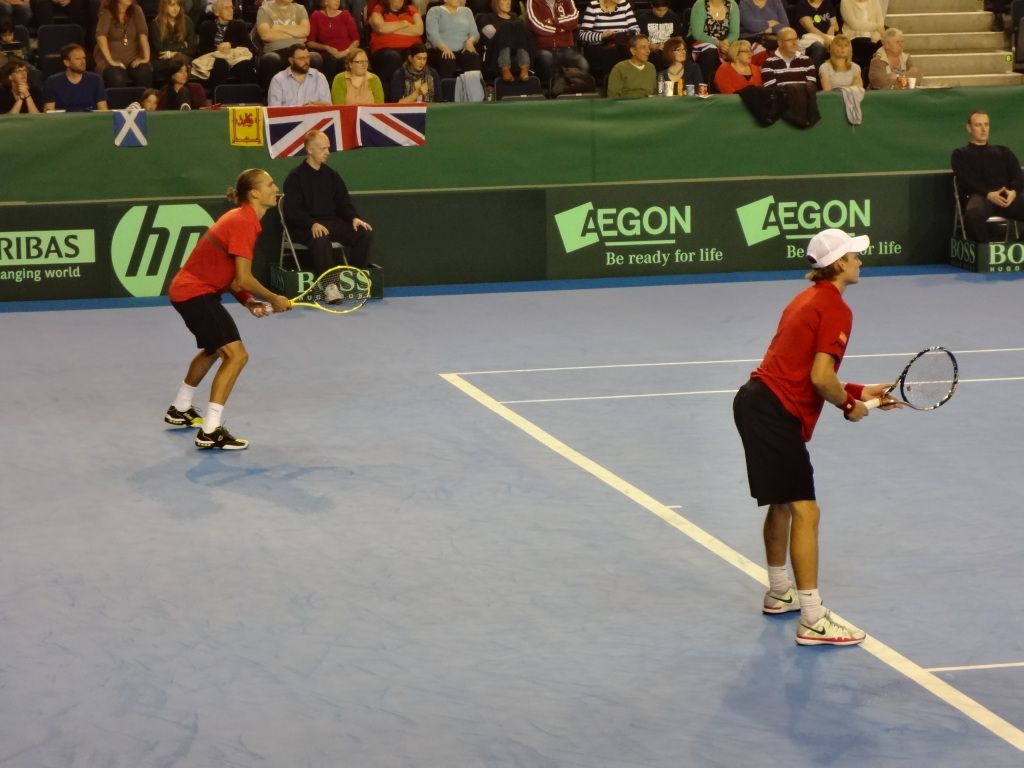 Photo credit: Lizzim
Prior to Roland Garros 2015, Rafael Nadal talked to Roland Garros Magazine about his past decade at Roland Garros. Here are a few extracts:
2003 and 2004: injuries
In 2003, I was high enough in the rankings (No. 87) for direct acceptance into the main draw but I hurt my elbow, so I had to withdraw.
In 2004, I had a bad left foot injury and I was off from April until July. This time though I came to Paris as I was invited by one of my sponsors. It was the first time that I'd been at Roland Garros. I was on crutches, but it didn't stop me from going all the way to the top of the stands at Philippe Chatrier Court. I sat on one of the seats to the right of the court to drink in the atmosphere. It's a fond memory for me. I was disappointed not to be able to play but deep down, I knew that sooner or later I would be able to take part in the tournament.
Tennis on clay:
Tennis on clay is the most complete expression of the sport as far as I'm concerned. The rallies are longer since the surface is slower, so you have to construct every point and implement a strategy to try to grind down your opponent. You need to be more patient, know how to defend and find a way to take control of points. And if you like this surface and feel at home on it, Roland Garros is obviously the temple of clay. It's a unique point in the season.
2005, first Roland Garros trophy:
I'd won a lot of titles on clay – in Brazil, Acapulco, Monte Carlo, Barcelona and Rome, so I had a lot of confidence. I knew that I had the game and the strength to go deep. During the tournament, I just took one match at a time, but I knew that if I played my best, I could achieve something.
When I see myself in 2005, I see a player with an incredible energy and enormous powers of concentration. I was on such a good form. I played with real intensity and passion. I was young and I had a carefree attitude you would expect of a 19-year-old. In the final against Mariano Puerta, I knew that it would be a difficult match and that's what it was. But I knew that anything was possible. This win will always be a key moment in my career. In the space of two months, I went from No. 50 in the world to winning Roland Garros. I handled it well in my head, because after this win, I stayed the same, I carried on working hard to keep on the right path as best I could.
It's true that after that first win, I thought "That's it, my dream has come true, so now the rest of my career, I will be calmer." But I'd got it all wrong. Because each season, it was the same thing – you're nervous, you want to win because you want to get back that indescribable feeling of emerging victorious at a Grand Slam tournament. So this feeling of calm that I thought I had got with that win turned out to be very temporary because a few months later, the tension and the desire to give it my all came back – stronger than before.
Not only the King of clay:
Winning at Roland Garros gives you the strength and the confidence to win elsewhere. Because when you start winning, you get into a virtuous circle: winning boosts your confidence, it makes you calmer, you gain more experience and it gives you a healthy dose of positive energy. Roland Garros is therefore a unique tournament in my career because it also enabled me to win on hard courts, on grass and everywhere else. In 2005, a lot of people thought that I could only play on clay, but after I won the French Open, I went on to win the Masters 1000 in Montreal and the tournament in Madrid (then played on hard courts), so I was good enough to win on other surfaces.
2008, 2012, 2014:
Lots of things have happened to me at Roland Garros. 2008 for example was the year that I was further ahead the pack than ever before. I didn't drop a set and think that this is the tournament where I played my best tennis.
In 2014 against Novak Djokovic, it was the toughest final physically. I'd never felt that tired – at the end of the first set as well. It was very hot, humid and muggy even though it had been quite cool throughout the fortnight. My body struggled with it. I also had some fitness problems during this tournament.
In 2012, I had cortisone injections to play because my knee was hurting. Thee was another year, I forget which one, when I also needed injections, this time on my foot. But injuries and fitness issues are part and parcel of being a tennis professional. With hindsight, I can see that the injuries led to me missing some important moments and tournaments but at the same time, they allowed me to put into perspective everything that I've achieved.
2009:
That defeat in 2009 was a hard one to swallow, I won't deny that, but at the same time it wasn't a tragedy. You mustn't blow it out of proportion. I'd won the tournament in 2005, 2006, 2007, and 2008. And I told myself that I wasn't going to win Roland Garros every year and that's normal, I can actually lose, I know that, so I went home and decided to prepare as best I could to try to win it again.
2010:
It was a very special victory. Even if I didn't drop a set this year, it wasn't as easy as in 2008. I was coming from a long way back. 2009 was a very tough year, both personally and physically. I hurt my knee before Roland Garros then after that it was my stomach muscles during the American swing. I went through some bad times. And after all that, I came back and won Roland Garros again. I was very, very emotional, and this win was the starting point of an exceptional period because I went on to win Wimbledon and the US Open. And once again it all started at Roland Garros.
Source: Roland Garros Magazine
Also read:
Roland Garros 2005: Nadal defeats Puerta
Roland Garros 2014: a fan's perspective on Nadal's win
Roland Garros 2015 coverage
Finally some live tennis! My first live tournament of the year!
My first memories of Roland Garros are from the early 80's, watching Lendl, Wilander, Navratilova, and Evert battle on one of the 3 French TV channels. And of course like every French people, I remember Noah's historic win over Wilander in 1983, his overwhelming joy and his run to embrace his father.
Leconte booed during the trophy presentation in 1988, Edberg heartbreaking defeat against Chang in 1989, Agassi flashy outfits, Graf-Seles breathtaking final in 1992, Guga samba tennis in 1997… Time flies.
May 2004: my first trip to Roland Garros. Agassi, Safin, Ferrero, the Williams sisters, I finally got to see some of the best tennis players I had watched for years on TV.
Marat Safin, 2004:
Fabrice Santoro and Peter Lundgren, 2004:
Juan Carlos Ferrero, 2004:
From then I was hooked, and Roland Garros 2004 was the first of many tournaments I've attended over the years: the US Open, the Queen's, Bercy, the Lagardère Trophy, the Optima Open, the Open GDF Suez and of course Roland Garros (in 2006, 2007, 2008, 2010, 2011, 2012).
Roger Federer, 2006:
Novak Djokovic, 2008:
Court Philippe Chatrier, 2010:
The excitement of the first tournaments slowly let place to a kind of "been there, done that" feeling, but there's
nothing like watching a sporting event courtside. Not only can you see and hear everything as it happens, but you also really feel part of the event. Of course, you don't get the benefit of all those fancy TV replays and close-ups but you avoid annoying commentary.
One of the best thing is court-hopping. Wandering around the grounds with a simple 24€ pass, you get to see as much or as little of the event as you want: watch Sharapova practicing on court 12, Hewitt playing on court 7 or a Goerges-Stosur doubles match on court 16.
I'll be onsite the first week, covering the tournament for Tennis Buzz but also guest posting for Grand Slam Gal.